/script type="text/javascript" src="https://app.getresponse.com/view_webform_v2.js?u=S6bT5&webforms_id=A25R">
Several months ago my wife and I traveled to Cancún, Mexico for a very specific reason: we wanted our son to be born here.
This was a no-brainer decision. Our daughter was born here in Cancún last year, and the experience was so great that we knew we wanted to repeat it.
Now that my son is about two months old, we're heading back today to Puerto Rico, where we normally reside. But I wanted to spend a few minutes today reflecting on my thoughts about Cancún after having spent nearly six months here.
Overall, it's really nice. Cancún is obviously well known as being one of the biggest tourist attractions in the world. And that has both positives and negatives.
Among the positives, it's very well developed. Everything works. The Internet is great, the electricity is reliable, and you'll find everything you want here, from high quality, specialty foods in the grocery stores, to fantastic malls and restaurants.
Another added benefit is that English proficiency in Cancún is substantial; my wife and I both speak Spanish, but it has been really interesting to see how many people speak excellent English here.
Cancun is also extremely safe — especially in the famous "Hotel Zone", where my friends who have lived here for years say they've never even so much as witnessed a fist fight. Security may be different in other parts of the region, but I've had absolutely zero concerns about safety here.
Cost of living is extremely reasonable. We've written extensively about the top quality, low cost medical care. But it's really everything — food, fuel, electricity, etc. is all moderate to cheap.
Last year, when we were here for my daughter's birth, I even bought a new desktop computer with a bunch of bells and whistles, like a fancy graphics card, at a time when you simply couldn't find that sort of equipment in the US.
But I easily found what I needed in Mexico; they didn't experience the same supply chain crunch as in the US. And it was very reasonably priced.
Labor in Cancún is also (unsurprisingly) very inexpensive. We've found plenty of child care and other domestic workers for as little as around $3/hour. It's ridiculous. Labor is so cheap that even my housekeeper has a housekeeper.
Positives aside, there were two irritating downsides during my time here that I'll tell you about.
The first is the traffic. I know that sounds like a trite and silly thing to complain about. And given that Cancún is not a terribly huge city (population around 1 million people), it seems strange that there would even be traffic.
But oh, there is.
The thing to realize is that Cancún's Hotel Zone is an extremely narrow strip — so there is exactly ONE road passing through it, with two lanes per side. There's literally no other option.
So if something happens on that ONE road, even if it's just a tiny accident, it becomes pure gridlock, worse than Los Angeles or Bangkok traffic. I'm not exaggerating.
And it turns out this is a fairly common occurrence; local drivers here have a bizarre habit of stopping in the middle of the road whenever they feel like it, if they need to pick up a passenger or go buy a taco, or whatever. They just put their flasher lights on and stop… and all the traffic behind them grinds to a halt.
So driving down the road is like navigating a slalom obstacle course, weaving around these stopped cars, buses, and taxis.
Traffic aside, the other irritating part of being here is the fact that it's such a famous tourist destination.
But unlike Paris, Kyoto, the Pyramids of Egypt, or any of the world's other great tourism destinations, Cancún exists for precisely one reason: for Americans to get completely sh*t-faced drunk on the beach.
It's actually been incredible to see. Grown adults who (I assume) would otherwise conduct themselves in a civilized manner back home, come down to Cancún and lose all sense of decency.
So, depending on where you stay, the house next door might end up being constantly rented out to groups who party like 1970s rock stars.
Now, I'm about to head out to the airport… but I asked my team to provide a few more examples and details about real estate, medical care, and residency:
Amazing Homes for Under $200 Per Square Foot
For about $480,000 in Cancún you could buy a nearly 4,000 sq.ft. house with 4 bedrooms, 4 baths, and a pool inside a gated community with close proximity to the city center and beaches.
That's about $120 per square foot… and that's very hard to find in North America. Even in Pittsburgh, PA, the median price per square foot according to Realtor.com is $153.
It's $207 per sq.ft. in the Dallas/ Fort Worth area of Texas. In the Tampa, Florida metro area, it's $248. In the San Jose area of California, the median cost per square foot is a whopping $840.
So $120 per square foot in Cancún is a great deal.
But you can also find a home with an ocean view in a very safe and desirable area for under $200 per square foot.
For example, this 4-bedroom, 4-bathroom condo has ocean views from several rooms, as well as its spacious terrace.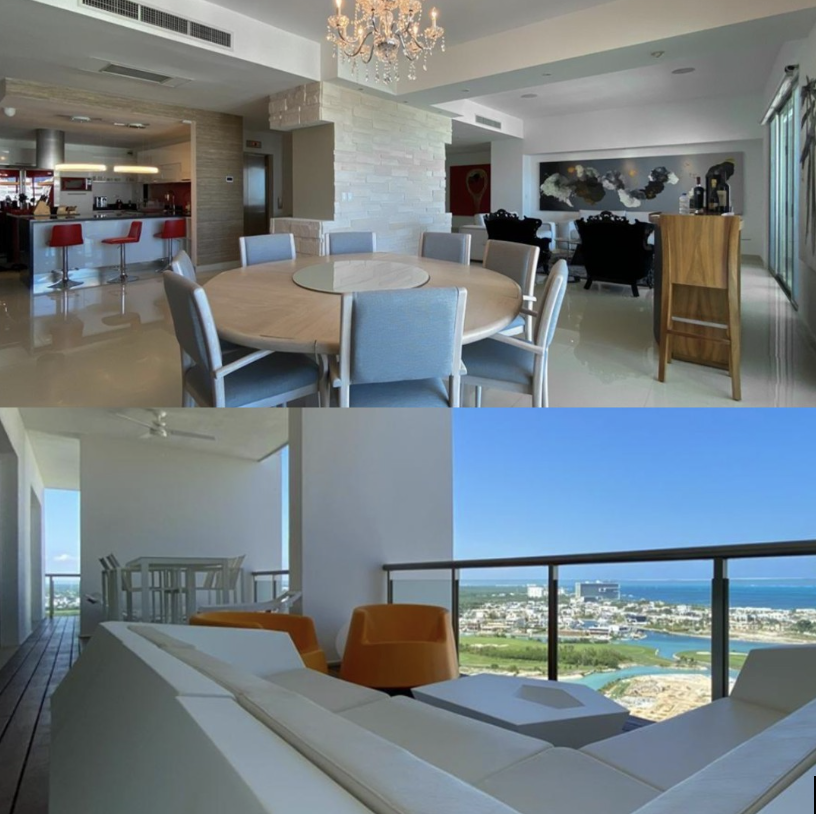 At $750,000 US, it comes to $199 per square foot.
I've also seen large, stately homes here in Cancún — 10,000+ square feet for just over a million dollars. There's all sorts of inventory available.
Very nice rentals start at about $2,000 per month for houses, and about $1,500 for spacious condos.
For example, this 2-bedroom, 3-bathroom waterfront condo in the Hotel Zone is asking $1,650 per month.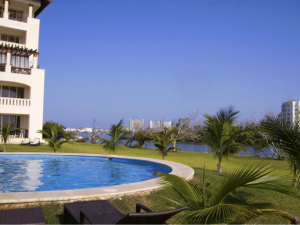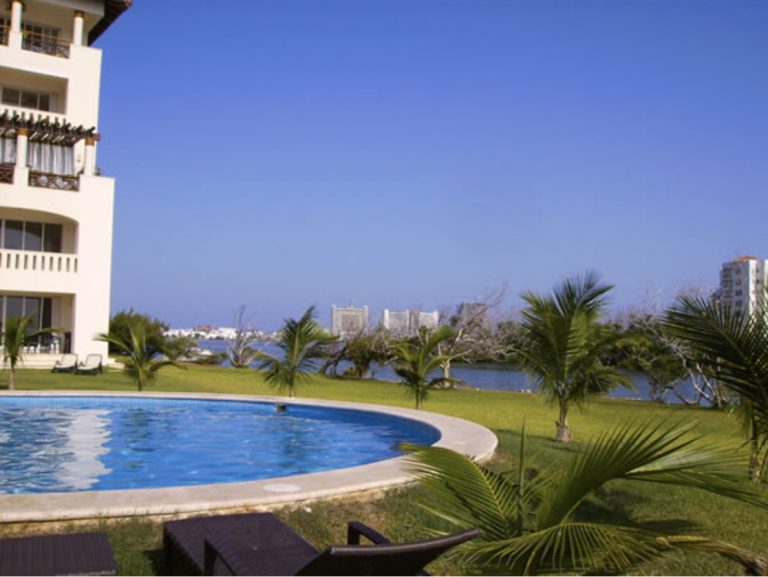 According to our cost of living index, a single person could live comfortably in Cancún for $1,710 per month. That includes everything from rent and food to entertainment and transportation.
For a family of four, that cost would be around $3,600 per month.
Top-Notch Healthcare for Ridiculously Low Prices
The cost of baby delivery in Cancún amounted to about $1,700 in TOTAL, including a spacious suite at the hospital.
In the US, the average cost is close to $20,000. And it can go much higher if there are complications, or a c-section required.
Mexico is also popular for dentistry, which costs about 65% less than in the United States. While it can cost nearly $4,000 for a single dental implant in the US, one of Cancún's most popular dental clinics charges $900 each.
For general care, Hospital Galenia in Cancún offers medical check-ups, all the way up to a so-called "executive" exam — which is a thorough work-up of your blood, organ functions and more.
In the US, you'll pay $5,000 or more for an executive exam. But in Cancún, at current exchange rates, you'll pay about $850. And for less-involved exams, prices start at $400.
How to Gain Residency in Mexico
Mexico also has an easy residency process. You only have to earn about $2,500 per month, or have about $35,000 in savings to show sufficient financial independence for temporary residency.
Retirees can skip right to permanent residency — which is truly permanent, as it never has to be renewed.
They must show investments or bank balances of about $150,000 OR a pension equivalent to about $3,600 per month.
In either case, you start the process by applying at a local Mexican consulate in your home country. But you don't have to go to the closest consulate. You can "shop around" since many have slightly different requirements and processes.
We have found that Mexican consulates in Las Vegas, Kansas City, and Raleigh, North Carolina have been fairly easy to work with. But you can email or call consulates in your area to see which will be the best for you.
Once you obtain residency, you will have six months to travel to Mexico to complete the process. This includes taking biometric data, and issuing a residency card.
For permanent residency, that's it, you're done.
For temporary residency, you'll have to renew after one year. Then your temporary residency is good for another three years, at which point you can apply for permanent residency.
After five years of residency total (temporary and/or permanent) you become eligible to apply for naturalization, become a Mexican citizen, and receive a Mexican passport.
Mexico has a B+ rated passport on our index, ranked 54th globally, with visa free access to 141 countries.
You'll have to pass a Spanish language and Mexican history test, and you'll have to live in Mexico full time for at least 18 of the past 24 months before applying.
But as you can see, if you choose a place like Cancún to spend that time, you won't be sacrificing anything.
In fact, you will likely end up living a higher quality of life for less money in Cancún. All the while, working towards a valuable second passport, that ensures no single government has total control of where you are allowed to work, live, and travel.
Want more articles like this? Sign up here to receive Sovereign Man letters to your email.